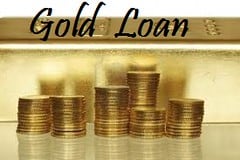 Loan Against Gold Near Me
When you need cash quickly, to help you out temporarily, but are not willing to sacrifice your valuables, gold loans can be an effective tool that can fit your short term needs.  The process is swift and efficient, and has the ability to make a substantial amount of cash accessible to you.
And the best place to go for a collateral gold loan is North Phoenix Pawn.  Our pawnbrokers will accurately assess your gold jewelry, bullion or coins, and hand you the most cash possible on a 90 day loan, within minutes.
What Are Gold Loans?
These are secured loans, that utilize the value that your gold bullion, coins, and/or jewelry holds.  For the duration of the loan, the gold is kept in a safe and secure vault, until the loan (including interest accrued) is paid in full.  Once the loan is satisfied, the lender swiftly returns your gold back to you, to have once again.
Gold Loan Vs. Selling Gold
When you take out a collateral loan on your gold at North Phoenix Pawn, it is understood that you are wanting your gold back in the end.  Therefore, the loan will have interest accruing daily, until the loan is satisfied.  Whereas, when you sell your gold, the sale is final, and you are relinquishing your valuables for the amount agreed upon.
You will receive slightly more when you outright sell your gold, rather than if you were to get a pawn loan on your gold.  But the difference is not much, considering you will get your gold back in the end.
Gold loans also do not affect your credit, or the value of the gold itself.  Therefore, you can take out loans on your gold as many times as you want, just as long as you can pay the loan back, with interest.
What Does Loan-To-Value Mean?
The term "loan-to-value" (LTV) refers to the risk the lender is taking, based on the amount a person is needing to borrow, compared to the how much an item (house, car, gold, etc.,) is worth.  For instance, if your gold is valued at $1000, yet you only want to borrow $200, than the lender will not foresee there being a problem with you paying off the loan and retrieving your gold back.  However, if it were reversed, (need $1000, and gold is worth only $200), a lender might question your ability to pay back the loan.
Valuations for Gold Loans
As stated before, a collateral loan from your gold, is based on the gold's value itself.  But, how does North Phoenix Pawn determine your gold's value?  It's pretty simple…
All gold jewelry, coins, rounds and gold bullion that is melted and minted will have a hallmark, defining the purity, aka the karat of the gold in question.  Once that is found, the gold is analyzed to confirm the purity of the gold, and then weighed.  After that, the current spot price is verified, and calculated, to make a cash offer to you to pawn gold for cash.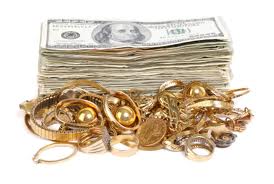 Cash Offers On Gold Loans
We here at North Phoenix Pawn, knows that when you walk in with your gold collection, you already know how much you are looking to borrow.  So consequently, we think it is important to point out that if the offer exceeds the amount you need, do NOT accept more than you need.  Because, the more you borrow, the more interest accrues, and has to be paid back.  So, keep that in mind, no matter how tempted you might be.
Short Term Loan
Our gold loans are for a maximum of 90 days, to pay the principal and the interest accrued, and retrieve your gold back in your possession.
You are more than welcome to satisfy the loan at any time during those 90 days.  There are never any penalties or fees for paying off your loan early.  In fact, if you pay off the loan prior to the 60th day, we will deduct a redemption discount from the total amount due.
However, if you are having difficulty satisfying the loan by the 90th day, come on in and talk to us.  Because, with paying only the interest accrued to date, we can rewrite the loan for another 90 days to give you more time to retrieve your gold back into your possession.
Click On Live-Chat
If you have any questions regarding the process of our gold loans, click on the bottom right of your screen on the live-chat icon.  You will be connected to the next available assistant, and they will happily provide the answers to as many questions as you may have.  In addition, while you are in live-chat, you can begin the process online with the assistant, lessening the time you need to spend at North Phoenix Pawn, to get the cash in your hands!
Who Can Avail Gold Loans?
Anyone and everyone!  If you have gold, in any form, you can bring it into North Phoenix Pawn and pawn it for cash.  Just make sure that you have your valid and current Arizona Driver's License to complete the paperwork, and get the cash you need counted out to you within 15 minutes or less at our pawn shop.
Online Application For Gold Loans