Buy Items You Want At a Lower Price!
At North Phoenix Pawn we buy quality items for incredible prices and pass the savings on to you.  Our pawnbrokers have thoroughly
examined these items at the time of purchase to ensure that they are in good working condition before we sell them to you.  For 25 years, our pawn shop has bought, pawned and sold valuables to Phoenix residents.  Once you have come in and seen our vast selection, you will come back over and over again to see what are the latest things we have put out on the floor to sell to the public.
We Have a Great Selection of Jewelry to Buy
Our selection of jewelry is a vast array of silver, gold and platinum rings, pendants, earrings, bracelets, watches and more.  We have tested
and verified the purity of the precious metal that is noted on the tag.  Included in our selection are pieces with precious gems from turquoise, emeralds and diamond settings that are available 7 days a week for you to purchase.
Diamond Jewelry – Our diamond jewelry that is available and for sale, has been graded, utilizing our diamond testing device.  It not only ensures that it is a true diamond, it also grades the diamonds quality, based on the 4C's of diamonds, to evaluate the diamond settings when we bought them.  You can buy these fine jewelry pieces at a price that is hard to pass up!
Check Out Our Selection of Power, Air & Handheld Tools
We have multiple and quality brands of tools, that is quite impressive.  From pneumatic tools and compressors, to handheld tool sets, you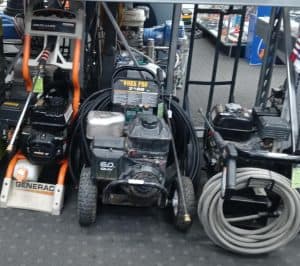 can find whatever you need at North Phoenix Pawn.  You will be astonished to the rows and shelves we have dedicated to the tools, equipment and devices that you will find in our pawn shop!  Come on in, and check it out!
We have:
Ladders & Stilts
Generators
Plumbing Snakes
And Soooo Much More!!!
Buy Musical Instruments, Electronics & A/V Equipment
At North Phoenix Pawn you will be in awe of the collection of bass, rhythm and lead guitars that are lined up on the wall.  Then you will

turn around and see the name brand and sought after collection amplifiers and audio equipment that is on the shelves for you to buy.  After that, then you will also take notice of the classic and digital camera collection and lenses available.  No matter what your interests or hobbies are, you are going to find our selection is phenomenal, and priced affordably!
Looking for electronics?  Well come on down to North Phoenix Pawn, and you'll soon discover we are also a Used Cell Phone Store and a Used Computer Store!  We have a great selection of almost new PC's, laptops, notebooks, cell phones and more!
10% Down to Take Advantage of Our Layaway Program
Not only do we have items in about every category that you can think of to buy at our pawn shop, they are at affordable prices.  Even more so,
you can even make them more affordable by putting them on layaway.
Yes…that is right.  With only 10% of the cost to buy almost anything in our pawn shop, the item you desire can be bought over time.  Once you put down the 10%, our pawnbroker will help you purchase that item on a payment plan.  The day the layaway contract is started, the item will be removed from the floor, into our section for valuables being bought on layaway.  Once the last payment from the contract is made, we will retrieve your item, and hand it to you with the receipt of purchase.
Depending on the how much the item costs will determine the monthly minimal payment, and how many months those payments will take to pay off the item in full.  For instance, a piece of jewelry that is selling for $500, the down payment will be $54.29.  After that the monthly payment will be $94.27 for 5 months.  Therefore, it will take you only 5 months to get the diamond tennis bracelet you have always wanted.