Sell Air Tools in Phoenix
There are many mechanics that started their auto repair business out of their own garage.  And after awhile, their business has expanded enough for them to invest in a professional shop.  So consequently, no longer needing their personal collection of pneumatic tools still in their garage.   Therefore, rather then letting them continue to collect dust, sell them to North Phoenix Pawn for cash.  Our experienced staff will assess them quickly and put the most cash possible in your hands!
North Phoenix Pawn Buys Air Tools!
There are more than one advantage of selling your air tools at North Phoenix Pawn.  First, you do not have to spend the time posting them and answering countless questions.  In addition, you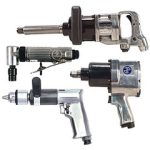 know that you can sell your entire collection all at once in a minimal amount of time.  Therefore, leaving you more time to focus on your new endeavor and/or having more family time.
When you bring your air tools and compressor into our store, an associate will be happy to start your assessment.  All of our assessments on air tools are free of charge, whether you accept our offer or not.  They will take your air tools and examine the exterior of your tools, and make sure that all the accessories are accounted for.  After that, they will power up your air tools, and make sure that every thing functions properly.  Finally, we will refer to the current market value and then present you with our offer.
WE BUY: Impact Drills – Air Compressors – Nail Guns – Paint Sprayers – Angle Grinders – Hammer Guns – Palm Sanders – And more!!
Air Tool Brands We Buy:
These are the most common brands we have seen come into our pawn shop and sell air tools to our store:
Tips to get the most cash when you sell air tools:
Bring them in their best condition possible (inside and out).
Make sure you bring all the accessories the tool came with when you bought it.
In addition, bring any accessories you bought separately or as an addition to the tool.
Bring along any sales receipts or original boxes from the purchase that you still have.
Have Cash in Your Hands Quickly!
If our cash offer is accepted, we will need a few things to complete the paperwork when you sell air tools to our pawn shop.  First, we will need a valid and current Arizona Driver's License.  After that, all we need are a few signatures, and then we count out our offer in cash to you.  From the start of the assessment, to counting out the cash can take as little as ten minutes.
Sell Air Tools Vs. Pawn Air Tools
When it comes to the difference of cash offers of pawning or selling, you will get slightly more when you sell.  However, when you sell air tools, means that you have no desire to have that valuable anymore.
A pawn loan is defined as a collateral loan or a secured loan.  Therefore, North Phoenix will hand you the cash offer based on an assessment, the same day you bring it in.  For the duration of the loan (which is 90 days), we will keep your air tools, compressor, and accessories for the duration of the loan, safely stored in our facility.  You can pay off the loan at any time within the 90 days, and receive your tools back within minutes of doing so.
At North Phoenix Pawn we value your time as much as when you sell air tools to our store!  Let us be the pawn shop that turns the value of your tools into cash in your hands!