Pawn Shop
Here at North Phoenix Pawn, we provide multiple services to our surrounding community.  Whether you are needing a means to find cash quickly, or buy quality merchandise at an affordable price, our local pawn shop is here to help!  In as little as 15 minutes, real time, you can have cash in your hands, from the time you walked in the door.
Cash offers are based on the item's resale value, and the condition/quality of the item.  Assessments on the following items are free of charge.
Jewelry & Diamonds – Bullion & Coins – Musical Instruments – Audio & Video Equipment – Artwork – Handheld, Power & Pneumatic Tools – Industrial Equipment – Gift Cards – Electronics – Authenticated Luxury Accessories – Sport Equipment
Pawn Or Sell Items for Quick Cash
Our collateral loans put cash in your hands, based on its current market value and condition.  Pawn loans allow you 90 days to satisfy the loan, and retrieve your belongings.  For the duration of the loan, we will keep your valuables safe and secured at our facility.  As a result of paying the pawn loan in full, you will receive your items back, in the same condition that they were received.
We welcome our customers to pay off the loan at any time during the 90 days.  In fact, satisfy the loan prior to the 60th day, and we will deduct a redemption discount from the total amount due.
North Phoenix Pawn prides itself to offer almost the same amount of cash to sell an item, or to pawn an item.
HOW TO SELL SOMETHING TO A PAWN SHOP
Do some research, before you come in, and check what the resale price is of the same make and model of that item.  If it is a rare heirloom, or item, know the back story of the item, as well as bring any paperwork that can verify its value.  In addition, bring in your items in their best possible condition, with all the accessories they came with, and have the sales receipt and original box they came in, if possible.  Because these little extras help increase the cash offer presented to you!  In the end, if your offer is not as much as you were hoping for, you are more than welcome to negotiate with our pawnbroker to raise it.
Shop In-Store Or On-Line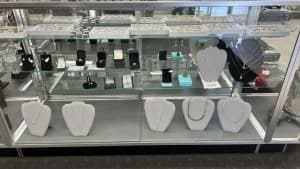 When you come into North Phoenix Pawn, you'll find many valuable items for sale, that are new, still in the box or in like-new condition.  Whether it's a piece of jewelry, electronics, musical instruments, etc., you'll find that you are in a shopping haven!  Or, from the convenience and comfort of your home, you can find valuable savings on our eBay listings.
LAYAWAY PROGRAM
All items that are eligible to be put on layaway is noted on the price tag in our store.  The length of the layaway depends on the selling price of the item, and the balance after the down payment.  All layaway items are kept safe and secure in our locked facility until the balance is paid in full.  If you default on the payment plan, there is a 15% restocking fee.
10% down on regular merchandise
25% down for firearms and accessories
Buy Sell or Pawn Firearms
Sell New and Used handguns, rifles, shotguns, accessories, ammo & some tactical gear.
We buy & pawn used firearms, accessories, ammo and some tactical gear.
Complete and submit your application online, or in person, with all the necessary information.
We will call you when your firearm is readily available to be picked up from our gun store.
You can pay the FFL transfer fee when you come in to receive your firearm.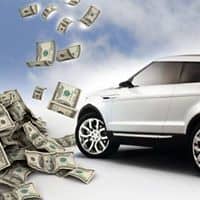 In partnership with Phoenix Title Loans, LLC, we are able to provide another option to get the most amount of cash possible!  Utilize the value on the car you own outright (car has no current loans or liens on the title) to secure a cash loan.  You can get a 12 month and up to a 60 month title loan.
The title loan amount is based on the loan-to-value available from your vehicle.  You can apply online to start the process prior to arriving, or just bring the vehicle directly to North Phoenix Pawn, and start it when you arrive.
Once one of our pawnbrokers assesses the visual appeal and overall working condition of your vehicle, they will refer to its current market value listed with the Kelley Blue Book.  The assessment is free of charge, and there is no obligation to accept our cash offer.  Bring along the following items:
Your vehicle, and its clean and clear title.
Proof of your current address.
Proof of insurance.
Driver's License.
An extra key to your vehicle.
Drive your car while making the monthly payments.  You can choose to have amortized fixed monthly payments or have your payments cover the interest only, and pay the principal at the end of the loan.
Our title loans are Hassle-Free!  No Credit Score Check Required!
Do you have excellent credit and want better loan terms?  Well, check out our Preferred Pawn Loans/Preferred Title Loans program!  These personal loans are able to offer a lower interest rate, and there is never an origination fee.
Additional Services That We Provide
Authentication of Luxury Items

Our pawn shop is equipped with Entrupy, to verify whether your luxury shoes, purses, handbags, accessories, belts and sneakers are truly authenticate or counterfeit.  The fee is paid prior to beginning the authentication process.
Most luxury and Sneaker authentications are $45 each, paid prior to analysis, and is non-refundable.

Hermes authentication is $100 per item.

All items that are confirmed authentic are eligible to receive a Certificate of Authenticity.

Notary Public Services
North Phoenix Pawn is one of the pawn shops near me with multiple services provided to help you get cash, or save money! Come on in and visit us today!