Get Cash for Gold Fast!
If you are looking for the best offer possible to get cash for gold, North Phoenix Pawn is the place to come!  We are the premier pawn shop when it comes to turning offers into cash.  That is because, it is our primary goal to be make the best offers and be the one that actually puts the cash in your hands.
Our pawnbrokers are the best in the industry.  Day in and day out, they make accurate assessments to give you the most cash possible for your gold.  Come on in and see what offers are waiting for you at North Phoenix Pawn for gold bullion and gold jewelry.
Get Cash for Gold from the following items:
Gold Jewelry

Pendants., Necklaces, Bracelets and Anklets
Rings (Engagement Rings, Wedding Rings and Engagement/Wedding Sets)
Earrings
Brooches
Watches

Gold Bullion

Coins (Bullion and Graded Coins)
Bars and Ingots
Troy Ounces and Rounds
Scrap Gold (Broken or Old Jewelry, Dental, Electronic Wiring)
How Can I Get Cash for Gold?
If you are needing cash, gold is always a great way to get lots of cash quickly.  Whether you have gold coins, rounds, bars, troy ounces or jewelry, North Phoenix Pawn will gladly make you the best offer possible to hand you cash for gold of all kinds.
At North Phoenix Pawn, our assessments of your gold are free of charge, and free from any obligation to accept our offer.
The process begins with locating the hallmark, and verifying whether the purity of your gold is accurately noted on the piece.  For gold bullion, we use our Sigma Metalytics.  This device sends electro magnetic waves through the bulk gold and analyzes its purity within less than a minute.  To assess your gold jewelry, we will use our gold testing kit, and utilize our touchstone to get the needed samples to do so.
After the karat of your gold is determined, we will need to weigh the gold.  Finally, our pawnbroker will refer to the spot price of gold, to have all the appropriate information to complete the valuation.
Gold is a precious metal and a commodity that is traded daily on the stock market.  There is a variety of different way that stocks are bought and sold, but there is one pricing that most in the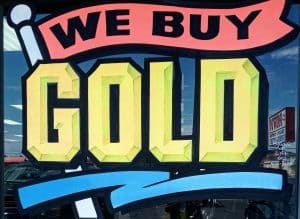 industry that buy and sell gold rely on.  This is known as the spot price.  The spot price is the current price of any commodity or currency that can be bought or sold, that will be immediately delivered to the buyer.  Therefore, this is the one of the three factors that is essential for us to calculate an accurate offer to you.
Once we have completed our assessment, we will calculate the best offer possible and present it to you.
Click on the bottom right of your screen to reach customer assistance via live-chat.  Our assistant can answer any questions you may have, and even begin the paperwork before you even arrive at  North Phoenix Pawn.  Therefore, taking less time at our pawn shop to have your cash for gold counted out and in your hands!
How Fast an Offer Can Turn Into Cash for Gold
Once an offer is accepted, we will need your valid and current Arizona Driver's License, along with some signatures.  After that, we will count out our offer in cash and hand it directly to you. From the beginning of the assessment to handing you a stack of cash can take as little as 10 minutes.  However, if you bring a varied collection of your gold jewelry and/or bullion, please note that it will take longer.  But, the more gold you bring in, the more cash you'll have!
Not Ready to Sell Cash for Gold?
The best thing about pawn shops, is that you do have the option to pawn your valuables, if you are not willing to sell them.  It's the same assessment process, and our offer on a pawn loan on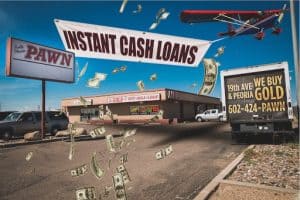 your gold is almost the same amount as if you were to sell.
All pawn loans are for 90 days, but you are welcome to pay off the loan at any time during that time.  For the duration of the loan, North Phoenix Pawn will keep your gold safe and secure in our locked vault until the loan is satisfied.
This is an ideal way to get you through, if your cash shortage is a temporary situation, and you need to fill the gap.  If this option sounds more appealing to you, ask our pawnbroker for more details on how to get cash for gold with a pawn loan.
North Phoenix Pawn has provided Phoenix residents with viable means to get the cash they need quickly for more than 25 years.  Come on in and see what offers our Phoenix pawn shop and pawnbrokers have waiting for you!