Need to Pawn Diamond Jewelry for Cash?
If you don't have the time to wait for an approval on a loan, pawn diamond jewelry at North Phoenix Pawn today!  Within 15 minutes of less, our pawnbrokers can assess your diamond jewelry, present an offer, and turn it into cash in your hands.
Come on in to our pawn shop if you are in the North Phoenix area, and find the best place in town is so close.  Making it all the more easier to pawn diamond jewelry near me.  You will be glad that you did.  You will experience for yourself how knowledgeable and skilled our pawnbrokers are.  And that is truly our goal to present the best possible offer to you, and turn it into cash in your hands in just minutes.
We offer cash loans on the following diamond jewelry: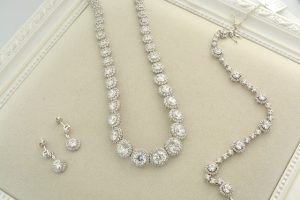 Pendants and Necklaces
Tennis Bracelets and Anklets
Rings (Engagement Rings, Wedding Rings, and Engagement or Wedding Sets)
Watches
Brooches
Earrings
North Phoenix Pawn is the premier pawn shop in the North Valley when it comes to pawn estate, antique and new jewelry for the most cash possible.  In North Phoenix we are the place to go and pawn diamond jewelry near me, and the pawn shop Phoenix residents trust most!
Pawn Diamond Jewelry for a Cash Loan Today
Pawn loans provide every one to make the cash they need viable to them, and quickly.  Because, they are collateral loans.  This means the loan is based on the value of the items you bring in and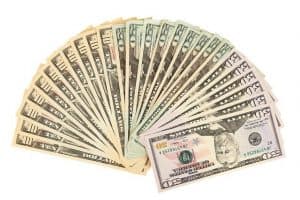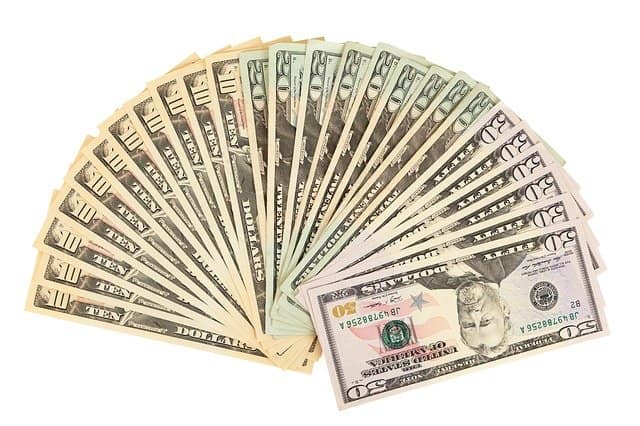 have assessed at a pawn shop.  In addition, if you have a certain amount you need, you can bundle multiple valuables together to reach your goal, if need be.  If you accept the cash offer to pawn diamond ring, then the ring is kept safe and secure in our locked vault, until the loan is satisfied.  Therefore, there is delay or waiting for a loan approval, no credit check, or it affecting your credit in any way.
Once the loan is paid in full, North Phoenix Pawn will retrieve your jewelry from the vault, and gladly hand it back to you.  Pawn loans allow you to get the money you need in a moments notice, without having to waste precious time or sacrifice the valuables you cherish.
In just as little as 15 minutes, your diamond jewelry can be assessed, an offer presented, paperwork completed, and cash in your hands and 90 days to payoff the loan.
Click on the bottom right of your screen to reach one of our assistants via live-chat.  They can answer any questions you may have, and even start the pawn process online, before you even arrive at North Phoenix Pawn, with your diamond jewelry.  Therefore, once you arrive at our pawn shop, just mention you were on live-chat, and our pawnbroker can complete your pawn loan faster. 
There are 2 Assessments Completed to Pawn Diamond Jewelry
At North Phoenix Pawn, we are well equipped with the most advanced tools, and experienced pawnbrokers, to confidently present the best offer possible to you.  To do so, we assess the diamond on its own, as well as the precious metal it is set in.  After that, we will combine the values found from both assessments and then present our offer to you.  In addition, all of our assessments to sell or pawn diamond jewelry are free of charge, and are under no obligation to accept the offer presented to you.
In 1931, the GIA (Gemological Institute of America) released the guidelines of properly assessing diamonds, based on the following four factors: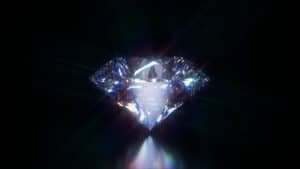 This grading system is the most known and utilized by jewelers worldwide.  It is also the guidelines that we follow and practice here at North Phoenix Pawn.
Analyzing the Platinum, Gold or Silver Jewelry Piece the Diamond Is Set In
Platinum, gold and silver are precious metals that have been adorned and utilized to create jewelry for thousands of years.  They are also the 3 precious metals that are bought and sold daily on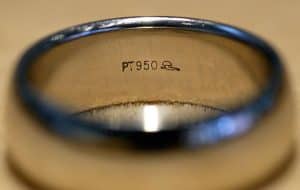 the stock exchange.  And although their value doesn't fluctuate like most of the market does, there is daily fluctuation, nonetheless.  Therefore, when you bring in platinum, silver or gold jewelry to pawn, the jewelry has to be analyzed to verify its purity and weight, prior to confirming the current spot price, to provide the best possible offer when you pawn diamond jewelry.
The assessment begins with locating the hidden stamp, or hallmark on the jewelry.  This mark notes the purity of the gold, silver or platinum that was used to make the jewelry piece.  Next, we rub the jewelry piece on a touchstone to retrieve flakes to properly test the purity of the precious metal.  This keeps your jewelry safe from the drops of acid used for testing, and does not affect its aesthetic appeal whatsoever.
Once the purity and weight is confirmed, our pawnbroker will verify the current spot price, and calculate the diamond jewelry's value.  From there, you will be presented an offer for a cash loan for you to consider.
Turning Offers Into Cash In Your Hands
If our offer is accepted, we will need to see your current Arizona Driver's License, followed by a few signatures.  After that, we will count out our offer in cash and hand it to you.  The entire process can take as little as 10 – 15 minutes from start to finish.
Pawn Diamond Jewelry Loan Terms
All pawn loans in Arizona are for no more than 90 days.  For the duration of the loan, we keep your valuables secured and safe in our vault.  Within minutes of satisfying the loan, we will gladly hand back your jewelry.
You are more than welcome to payoff the loan at any time during the 90 days.  There are never any penalties or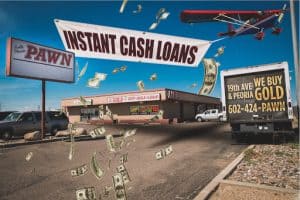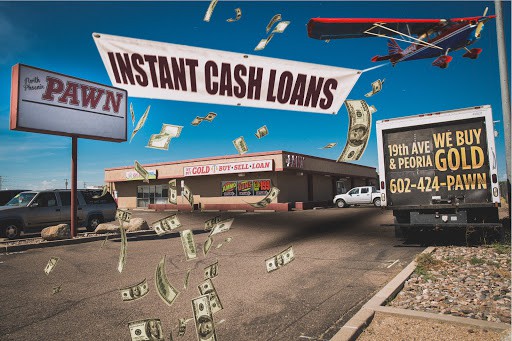 fees added on to the total amount due when you pawn diamond jewelry.  In fact, if the loan is satisfied before the 60th day of the loan, we will deduct a redemption discount, and lessen the total amount due.
Although, we do know that sometimes circumstances make it hard to pay the loan in full by the 90th day.  If that is the case, come talk to us.  Because, if you pay only the interest accrued to date, we can rewrite the loan for another 90 days.  And, we can do that multiple times, to ensure that you will once again have your diamond jewelry.
However, if at any point within the 90 days, you decide you can't afford to pay off the loan, you can relinquish your jewelry to our pawn shop.  Therefore, relieving you of any further obligations to the store to pay back the loan.  It is never our goal to keep your valuables, we do understand that sometimes there is no other choice to make.
North Phoenix Pawn is a cash lender you can rely on Phoenix residents!  Whether you sell or pawn diamond jewelry to our pawn shop, we will assess it and offer you the most cash possible evert time!