Sell Louis Vuitton Bags for Cash
If you are looking for the best place to sell Louis Vuitton bags or accessories, you've found it at North Phoenix Pawn!  Because it is important to take your bag, or collection, where value is recognized and turned into cash in your hands, within mere minutes.  And our pawn shop is well equipped and experienced with valuating Louis Vuitton bags, belts, wallets and more.  So, come on down to our store, and see what offer awaits you when you sell Louis Vuitton handbags at North Phoenix Pawn today!
Sell Louis Vuitton to North Phoenix Pawn:
Shoes – Boots – Pumps – Belts – Wallets – Clutches – Mini Bags – Chain Bags – Totes – Shoulder Bags – Cross Body Bags – Handbags
What Defines Louis Vuitton Bags & Accessories?
The elegant and sophisticated style of Louis Vuitton's line of luxury bags and accessories began in France in 1854.  Their logo is known by all and continues to set the cultural landscape of fashion and design.  All of their bags are made with only the finest leather, hardware and materials, and are all meticulously handcrafted.  So consequently, there demand remains high, as well as their value and retail price.  In addition, their handbags are never discounted, and each bag has a minimum life expectancy of 20 years, (if properly taken care of).  Therefore, these bags are worth the price, if you can afford them.
Assessments To Sell Louis Vuitton Bags for Cash
At North Phoenix Pawn, before we can begin the assessment of your Louis Vuitton handbag, we must first verify its authenticity.  And, to do so, we are equipped with an Entrupy device, to authenticate luxury goods, using AI and its algorithms.  This assures that the accessory that we are about to make an offer on, is a confirmed Louis Vuitton item, and not a counterfeit.  Considering how much value the authentic items can hold, you can see why we take this extra measure to verify the items.
*There is a small fee of $45 for the authentication of the Louis Vuitton bag, paid in advance, whether it is found as an authentic accessory or not.  However, the assessment is free of charge, and there is never any obligation to accept our cash offer.
After the verification of the bag's authenticity, we will inspect the condition of the Louis Vuitton bag, inside and out.  Then, our pawnbroker will refer to the current market value of the accessory and calculate an offer to present to you.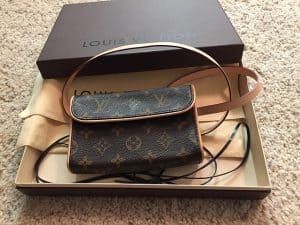 Want to increase your cash offer when you sell Louis Vuitton accessories to our store?  Here are some tips that will help you do just that:
Take a moment or two before you head up to our store with your luxury clutch purse, to ensure that you will present the purse in its best possible condition.
If you still have the sales receipt from the time of purchase, or a certificate of authenticity of the bag, definitely bring them with, and present them with the bag itself.
If you still have the box that the purse came in, and the bag, neatly place it in the box and bag, before you bring it into the store.
All of these items will bode you and your offer well, when you sell Louis Vuitton items at our store!  Because they not only help verify authenticity but allow you to present the handbag just the way you received it when you bought it.  Lastly, the receipt itself confirms the style brand, and the selling price at the time.
Accepting Our Cash Offer to Sell Louis Vuitton Bag
If our offer is accepted, we will need your valid and current Driver's License, as well as a few signatures.  Once that is said and done, we count out the offer in cash and hand it to you!  The entire process can take as little as 15 minutes or less.  Therefore, if you are looking to liquidate some valuable Louis Vuitton bags or accessories, come on into North Phoenix Pawn.  You will receive professional and friendly service, and the best cash offer around!