Sell Gold Near Me for Fast Cash
Are you readily looking or needing to sell gold that you have for the most cash possible?  Well, no need to look farther, because you just found it!  At North Phoenix Pawn, you have found a pawn shop that offers professional and friendly service, to take care of your cash needs.  We have over 25 years experience of knowing how to asses your gold and turning offers into cash in your hands.  Here's a list of gold jewelry and bullion we will buy:
Sell Gold Jewelry

Earrings
Pendants & Necklaces
Bracelets & Anklets
Rings (Including Wedding Bands, Engagement Rings & Wedding Sets)
Brooches

Sell Gold Bullion

Coins and Rounds
Graded Gold Coins
Troy Ounces
Bars, Ingots, Nuggets
Scrap Gold (Broken or Old Jewelry, Electronic Devices & Dental Gold)
Valuations to Sell Gold
A valuation of your gold is necessary to efficiently assess its worth, and gives us the ability to present you with the best possible cash offer to sell gold to us.  Therefore, North Phoenix Pawn needs to analyze the gold's purity, weigh it, and finally verify the current Spot Price to present an offer to you.
Gold's Purity, Weight and the Spot Price Matter Immensely
The amount of pure gold used compared to the alloys mixed in to make gold ornaments is measured in karats.  24 karat gold is the purest ratio, (99.9%).  While 14 karat gold is only 58.33%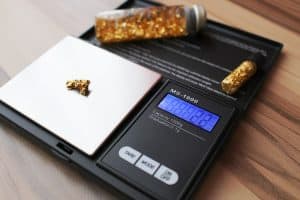 gold, and the rest is a mixture of alloys.  Obviously, the purer the gold, the more value it holds.
Gold is very malleable and ductile, making it relatively easy to spin wire, flatten and create gold ornaments.  Therefore, that is why gold bullion, ingots, rounds that are minted, are mostly made from 24 karat gold.  However, gold jewelry is made mostly of gold that is 14 karat to 22 karat.  This is because the alloy mixture allows the jewelry to hold its form and structure better, and does not warp its shape as easily.
We have two ways to analyze your gold's purity. For all forms of gold bullion (bulk gold), we will use our Sigma Metalytics device.  This sends electromagnetic waves through the bulk gold, according to it's settings.  Our testing of gold jewelry, uses a touchstone and a test kit.
The Spot Price differs from moment to moment from the opening of the daily stock market, until it closes.  Because of this constant fluctuation, it is incredibly important to know the current spot price at the time of our offer.  Therefore, it is the last piece of information we need to calculate our cash offer.
How Do We Always Offer the Most Cash Possible to Sell Gold?
Almost all pawn shops follow the same criteria to assess your gold and make you a cash offer. Including the percentage that they payout based on all of gold's factors.  Therefore, the cash offer you receive, is only 50% – 60% of what your gold is actually worth.
However, North Phoenix Pawn pays out a higher percentage for gold than most.  Our offers represent the spot price and even a bit more, depending on what it is.  That's because we strive to be the pawn shop you can rely on to sell your valuables, and get the cash you need.
Click on the bottom right of your screen to converse with our customer assistance via live-chat.  You can get the answers to any questions you may have and even begin the paperwork online before you even arrive at our store. 
Turning Offers Into Cash In Your Hands When You Sell Gold Near Me
If our cash offer is accepted, we will need a couple of things to finalize the sale.  After we see your valid and current Arizona Driver's License and a few signatures, we will count our offer in cash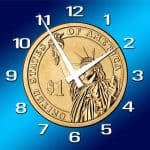 and hand it directly to you.  The entire process, from the beginning of the assessment, to having cash in your hand, can take as little as 10 – 15 minutes.  Because at North Phoenix Pawn , we realize that time can be just as valuable as money, so we take as little of your time as possible.
For over 25 years, North Phoenix Pawn has provided viable ways for Phoenix residents to get the cash they need quickly!  Come on down to our pawn shop and see what offer awaits you for your gold bullion and/or jewelry today!