Pawn Audio/Video Equipment for Cash
If you have a financial emergency that requires money now, pawn audio/video equipment for fast cash at North Phoenix Pawn today.  You can choose to bring down selected items of personal or professional items, or all your equipment at once.  There is no pawn loan that is too big for us to handle, or no limit to the amount of equipment you bring in!
Our pawn shop leads the way of providing you with accurate assessments, the best cash offers and impeccable customer service.  Because the last thing you need when you need a lot of cash is more stress.  At North Phoenix Pawn we offer collateral loans that are hassle-free and do not affect your credit score.  Although you can increase your offer and lower the interest with our Preferred Pawn Loans.
Another plus to pawn loans is there is no payment schedule during the loan.  The only requirement is to pay it in full by the day the loan is due.  In the end, you get the cash when you need it, pay off the loan and have your video cameras back in 90 days or less.
Pawn Audio/Video Equipment and More!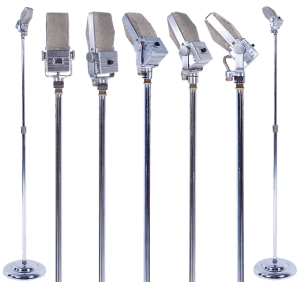 Whether your audio and/or video equipment is from your home, or for professional use, our pawnbrokers will accurately assess your equipment and make the best offer possible!  Our staff is equipped with the knowledge and the tools to find the value in the items you bring into our store.
Headphones, Headsets and Earbuds
Cameras, Portable Camera
Tripods
Camera Gimbals
Editing/Production Software
Lighting
Capture Cards and Memory Cards
DVDs and Blu-ray
CD Players, CD DVD Duplicators and Audio Recorders
Podcasting
Monitor Systems
Recording Accessories
Microphone and Phono Preamps
Computer Audio
Audio Signal Processing
Surround Sound for the Home
Click on the bottom right side of your screen and be connected to an assistant via live-chat.  Not only can you get the answers you need to your questions, but the paperwork started on-line as well.  As a result, you will have a head start on the process before you even arrive to pawn audio/video equipment for cash!
Hassle-Free When You Pawn Audio/Video Equipment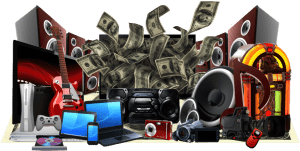 Pawn loans are a discreet way for you to secure a loan and not have it affect your credit score or wait for approval.  Likewise, all of our assessments on audio and video equipment are free of charge.
Once our associate examines your equipment, test its working condition, and confirm the current market value, they will present you with an offer to pawn audio/video equipment.
If our offer is accepted, we will need your valid and current Arizona Driver's license and a few signatures.  After that, we count out the cash and hand it to you.
All Arizona pawn loans are for no more than 90 days.  In addition, you can pay the loan in full at any time, without any penalties for early payment.  In fact, if you satisfy the loan prior to the 60th day, we will deduct a redemption discount from the amount due.  Once the loan is paid, we gladly hand you back your equipment.
However, if you find yourself stressed trying to pay off the loan prior to the 90th day, come in and talk to us.  With paying only the interest accrued to date, we can rewrite the loan for another 90 days to pawn audio/video equipment.  Because we aim to ease your financial woes, not cause more!
North Phoenix Pawn is a reliable source to get the cash you need it quickly!  Our goal is to make the best offer possible and turn it into cash in your hands! Therefore you know that we will find the value when you sell or pawn audio/video equipment with us!