Sell Diamonds For Cash Near Me
When you sell diamond jewelry, you want to make sure that their intrinsic value is not only recognized, but is reflected in a buyer's cash offer.  Therefore, it's best to go to a buyer that knows how to accurately assess your diamonds, and turn them into the most cash possible.
If you've wondered, where I can sell my diamond ring for the most money?  Look no further than North Phoenix Pawn!  We are the premier pawn shop to bring in and sell diamond jewelry, and receive the highest offer around.  Because our pawnbrokers are highly trained and well equipped to valuate your diamond jewelry efficiently, and are able to put cash in your hands quickly!
DIAMOND JEWELRY WE BUY:
Earrings
Pendants, Necklaces & Chokers
Brooches
Watches
Rings – Wedding Sets, Engagement Rings & Wedding Rings
Bracelets & Anklets
North Phoenix Pawn is a reputable jewelry buyer in the North Valley.  We buy, pawn and sell estate jewelry, antique jewelry and heirlooms.  Therefore, why not take advantage of having the premier pawn shop that offers the most cash possible, and sell diamond jewelry near me?
Sell Diamond Jewelry for the Most Cash Possible
North Phoenix Pawn knows that diamond jewelry has to have two separate assessments combined to calculate our cash offer.  Therefore, that is exactly what we do!  One assessment analyzes the precious metal, and the other assesses the diamonds.  The grading of the diamond's authenticity and grading its quality follow the guidelines created by GIA, for an accurate analysis.  We practice this way of analysis to properly gauge the value, to ensure we present our customers with the most cash possible.
The 4 C's of Diamond Assessments

There are 4 different aspects a diamond is graded and valued by, and they all begin with a C.  They are Cut, Color, Clarity and Carat.  When you break it down, and define each aspect, you can see why each factor is taken into consideration, when you sell diamond jewelry.
Cut – This considers the symmetry, the proportions and the polish of the diamond.  The way the facets reflect the light gives it its brilliance and creates the sparkle of different colors from within.  This factor is the most crucial when assessing a diamond.
Clarity – This the flaws that are found internally in the diamond (inclusions) and on the exterior (blemishes).  The majority of the time, these impurities are not obvious to the naked eye.
Color – There is a range of 23 colors (aka grades) that a diamond can have as a hue.  Although most of us always think of diamonds as being white or clear, these are the rarest of all diamond "colors".  This scale starts at D-F, which is colorless, to S-Z, which is light yellow.  (This category of grading is the second most important.)
Carat – This is the measurement of the weight of a diamond.  The price of diamonds jumps drastically for each full carat.  For instance, the price difference of 2 carats can be 3X as much as 1 carat.
The Value of Gold, Platinum & Silver and How It Is Determined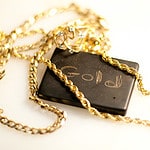 There are three precious metals that are used to create and design jewelry with.  They are platinum, gold and silver.  These precious metals are the most malleable and ductile metals there are, in their purest forms.  Because of this, jewelers are able to create amazing settings for diamonds to be adorned.   Although, to give jewelry the ability to be more durable, they are mixed with alloys, depending on the affect the jeweler has envisioned, or making jewelry more affordable to all.
A precious metal's purity that is used to create jewelry can vary.  In fact, most jewelry made from gold vary from (14k) 58.3% purity, to (22k) 91.67% purity.  The k represents karat, which has 24 parts to it, and is gold's measurement of fineness.  Our pawnbroker will locate the hidden hallmark that denotes the karat, and perform the testing needed, to confirm the fineness of the precious metal used.
After that, the gold, silver or platinum is put on the scale to be weighed.  Finally, the daily spot price is verified of the precious metal.
In the end, the two assessments are added together, and then our pawnbroker will calculate a fair percentage of the market value, and then present our offer to you.
We Turn Our Offers Into Cash In Your Hands Quickly
If our offer to sell diamond jewelry is accepted, we will need your valid and current Arizona Driver's License and your signature to finalize the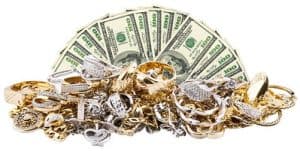 paperwork.  Once that is said and done, our pawnbroker will count out the offer in cash and hand it directly to you.  From the assessment to having cash in your hands, can take as little as 20 minutes from our store.
North Phoenix Pawn is the pawn shop Phoenix residents rely on for accurate assessments and the convenience, when you sell jewelry near me!