Jewelry Store Near Me
North Phoenix Pawn is the Jewelry Store Near Me, with an amazing selection of gold, silver, platinum and diamond jewelry on display, and for sale.  Located just north of Peoria, on 19th Avenue, we are a great place to go and find beautiful pieces of jewelry, at prices far below their retail price tags!  Come on down and check out our gold chains, diamond rings and ring sets, fine watches, bracelets, Native American Jewelry, and luxury jewelry selection.  Making us the premier pawn shop and jewelry store near me, and find fine jewelry at competitively low prices!
You'll Find Authenticated & Certified Treasures at the Jewelry Store Near Me
There is more to see than meets the eye, when it comes to jewelry stores.  There are many that have spent a lot of time and money on advertising, and might even have a jingle that comes to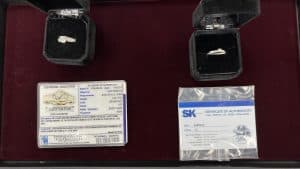 mind, when you think about going to jewelry stores.  For instance, when a Kay Jewelers commercial comes on, we all sing the closing line of their spots, along with the jingle itself.  How can you not?  But, while there are well known jewelry stores like the Shane Company, The Jewelry Exchange, and Pandora Jewelry, and Kay's, shopping at these stores comes at a price that is not so easy to afford.
North Phoenix Pawn may not be a household name, but once you come in and see what we have to offer, we will become your favorite jewelry store near me! Because, all of the jewelry that we have, and on display, have been tested properly and assessed by our professional pawnbrokers.  We do this prior to buying the pieces from customers, to know exactly what we are buying, and to make an acceptable offer to them.  In addition, not only have the diamonds been tested using our tool, it also analyzes their quality, based on the 4 C's of grading diamonds, thanks to the GIA.  We also have diamonds for sale that come with the certificates of authenticity, from the dealers themselves.
We Have A Great Selection of Silver & Native American Jewelry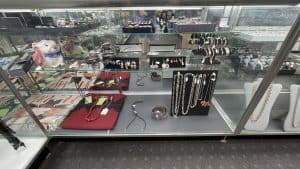 North Phoenix Pawn continues to shine, with its display cabinet of silver jewelry to admire.  Where you will also find a great assortment of Native American jewelry, belt buckles and Conchos. These brilliant designs are crafted right here in the Southwest Region of the United States.  Many pieces are adorned with red jasper and / or turquoise, set in sterling silver.  And we proudly have quite an array of rings, bracelets, necklaces and more for sale in at the jewelry store near me.
Native American Jewelry from the Navajo, Hopi and Zuni tribes: Rings – Earrings – Bracelets – Cuffs – Necklaces – Belt Buckles – Pendants 
Fine Watches & Luxury Brands
The most renowned brand that comes to mind, when you are talking about fine watches, Rolex is the first one that comes to mind.  Although, this jewelry store near me, also has other luxury brands, such as OMEGA, Breitling, Cartier and Van Cleef & Arpels watches for sale on site.
More than not, we also have fine jewelry from well known brands, such as Cartier and Tiffany & Co.  We are always grateful to display these precious gems, that are set with elegance and sophistication, like no other.  However, many times, that admiration does not last for long, due to our affordable prices for our authentic pieces of jewelry.  Because, as we stated before, our inventory and stock completely relies on the items brought in and sold to our store.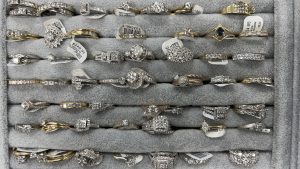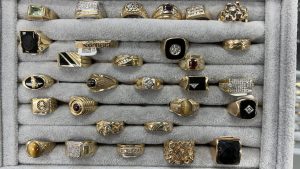 Lay-Away Makes Fine Jewelry Become Yours In No Time At The Jewelry Store Near Me
Like most, many times when you are in a jewelry store, you find something that you completely fall in love with, but cannot afford to pay for all at once.  Well, at North Phoenix Pawn, we have an awesome lay-away program, that makes expensive pieces affordable for everyone!
With only 10% down, of the total amount due, you can put a beautiful diamond ring on lay-away, without any finance charges.  Depending on how much it costs, determines how much your monthly payments are, and for how long.  After that, you will make monthly payments, according to the lay-away contract, in cash, at our store.  For the duration of the lay-away, we will keep your jewelry safe and secure, until the last payment is made.  Then we will retrieve it from our jewelry vault , and happily hand over your jewelry directly to you.
If the lay-away contract is defaulted on, there is a 15% restocking fee.
North Phoenix Pawn continues to be the premier Phoenix pawn shop and jewelry store near me, that makes all things possible!